Sustainability. It's a term that we hear a lot, but Karnak has lead this movement since the 1950's, and our products have restored roofs throughout the United States since 1933.   But what exactly is sustainability, how do Reflective Roof Coatings affect it and how can Karnak help you make the best choices for your buildings? Sustainable development is defined as that which "meets the needs of the present without compromising the ability of future generations to meet their own needs." A sustainable roof is defined as "a roof system that is designed, constructed, maintained, rehabilitated, a with an emphasis throughout its life-cycle on using natural resources efficiently and preserving the global environment". The sustainable benefits that Reflective Coatings and Reflective Coating Systems can create a sustainable and energy efficient solution without the need for costly tear off, and can be sustained indefinitely if properly maintained and coated at then end of each warranty period..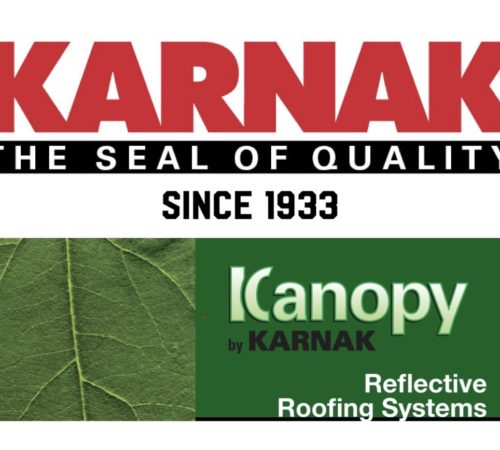 Why re-roof when you can restore????
KARNAK COATINGS:
Improve the energy efficiency of a building
Protect the roof investment by extending the roof's life-cycle
Reduce "Peak Energy Use", saving money year round
Reduce roof surface temperature
Qualify for LEED points Trust Karnak with your Sustainability needs. Karnak has led the roof restoration movement since 1933. A family owned business, with family values and commitment to quality.
Karnak has produced Sustainable Reflective Roof Coating Products and promoted their attributes for decades – even before they were recognized by the scientific community and the government as important. Karnak:
Was the first company to produce an aluminum roof coating third-party certified by UL Labs as to a Class "A" Fire Rating.
Was a pioneer in the production of white acrylic and white SEBS coatings
Is a charter partner in the EPA's Energy Star Roof Coatings Program
Products are third-party certified by several World Accredited Laboratories. (Third party testing includes ASTM Verification and unannounced visits to our manufacturing plants to verify quality and consistency.)
Products are listed and verified by CRRC (Cool Roof Rating Council) and the U.S. EPA's Energy Star Roof Coatings Program. (These listings and third party certificates are necessary for products to comply with the USGBC's LEED rating system requirements. LEED Certified buildings may qualify for tax breaks and utility savings.)
Products comply with Fire, Insurance and Building Codes (They are certified by third parties to meet Miami, Dade County, Florida building code requirements, and meet California Title 24 requirements, etc.) Today, Karnak Reflective Coatings offer the most economically feasible and non-disruptive solutions for energy savings and roof sustainability.
Karnak manufactures the widest variety of roofing repair and energy efficient roof coating and restoration products in the industry.   While most manufacturers have one product that does not necessarily work for every field condition, Karnak has hundreds of products developed over 87 years of research and innovation.
Our product offerings include:
Acrylic Elastomeric Coatings
Rubberized Asphalt Coatings
Rubberized Aluminum Coatings
19 Ultra Wet Repair Flashing Cement
We Are The #1 Single Source Manufacturers
Representative Of Roofing Materials